Applications of compact wheel loader attachments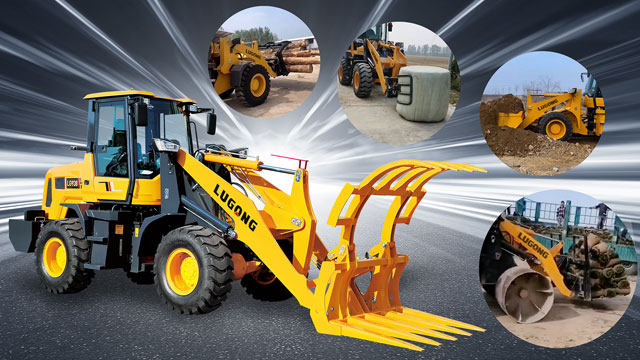 Compact wheel loaders are named because of their compact size. It is popular and widely utilized for its higher fuel efficiency, lower maintenance cost, better operating experience and smoother ride.
Today's compact wheel loaders, in addition to their loading and transport functions, can explore new applications for compact wheel loaders by changing attachments.
Commonly used attachments for compact wheel loaders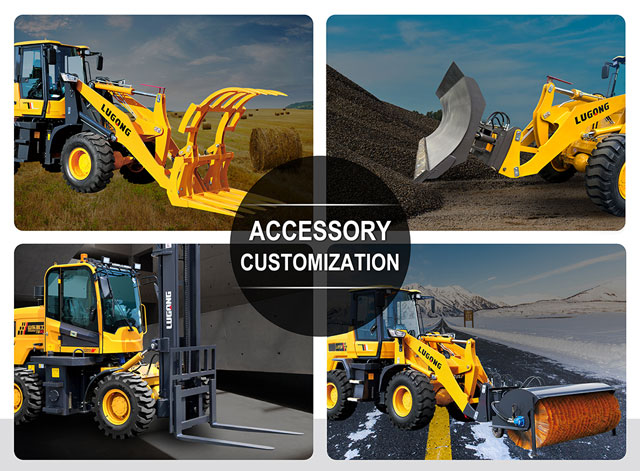 Bucket
The bucket is the most widely used to the wheel loader and can be used for excavation, lifting, loading, leveling and other operations. Buckets are selected in different types depending on the use scenario. The most common are construction buckets for loading bulk materials such as construction materials and gravel, most of which have welded teeth for added durability. As well as large capacity light material buckets for loading light materials such as grain and plastic.
Grass grable and Log grable
Straw forks are most widely used on farms. They are necessary for jobs such as recycling, demolition, land clearing, or any other job that requires moving materials that do not fit neatly into the bucket.
Pallet fork
This attachment allows the wheel loader to act as a forklift or telescopic boom forklift, lifting and moving objects on the pallets. Compact wheel loaders can accomplish weights and heights that are impossible to reach with a regular forklift, and at much higher speeds than a regular forklift, making the loader an option for jobs in harsh working environments or over longer distances.
Quick change device
For faster and quicker attachment replacement, we recommend you to choose a loader with quick-change device, which can easily complete the attachment replacement work.
Compact wheel wheel loader besides the GP bucket, log grable,grass grable andpallet fork . We also have clip hugger, snow plow, four-in-one bucket, rotary, snow shovel, etc. can be combined with compact wheel loaders to accomplish more work. For more questions about loaders and accessories, please feel free to consult us.