How much do you know about mini excavators
Mini excavators are generally excavating machinery with a handling capacity between 0.05 and 0.3 cubic metres. Due to their small size, light weight and flexible operation, mini excavators can be operated flexibly in small spaces, so they still play an important role in small projects such as urban construction, landscaping and road maintenance. Suitable mini excavation models and working devices need to be selected according to specific work requirements and working conditions in order to improve efficiency and quality. Our mini excavation products are equipped with a variety of working devices, such as buckets, crushing hammers and pliers, which can be replaced according to different work requirements, making them more flexible and versatile.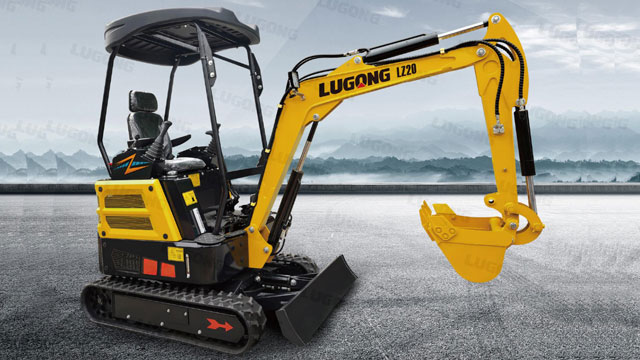 Working principle of mini excavator
1. The engine provides the power, which drives the hydraulic pump through the transmission system.
2. The hydraulic pump converts the hydraulic oil pressure into mechanical energy, which drives the hydraulic motor and hydraulic cylinder. 3.
3. The hydraulic motor drives the rotating mechanism, which allows the machine to rotate and steer smoothly.
4. The hydraulic cylinders drive the working devices, such as buckets and tongs, for digging, loading and unloading operations.
5. The driver controls the hydraulic system through the joystick and foot pedal to achieve various operations of the machine.
Notes on the operation of the mini excavator
1. Before operating the mini excavator, you must wear personal protective equipment, such as helmet, safety shoes and gloves, to ensure your own safety.
2. The driver needs to be familiar with the operating methods, performance parameters and safety procedures of the mini excavator, and comply with the operating procedures to ensure safe operation.
3. Before working, the hydraulic oil, fuel, water temperature and other indicators of the mini excavator should be checked to ensure that the machine is in normal working condition.
4. When working, you need to choose the working device and operation method reasonably according to the work site and work requirements, and avoid overloading or excessive tilting to avoid the machine overturning.
5. When operating the bucket for digging, loading and unloading, you need to control the height and tilt angle of the bucket to avoid digging too deep or tilting too much.
6. When operating the mini excavator, extra attention should be paid to the surrounding environment and the safety of other workers to avoid accidental injuries and accidents.
7. After the operation, the mini excavator needs to be cleaned and maintained, and the oil, filter element, hydraulic system and transmission system should be changed regularly to prolong the life of the machine and ensure safe operation.
Lugong is a professional manufacturer of mini excavators, with many years of production experience and technology accumulation. Our mini excavators are reliable in quality, stable in performance, flexible in operation and reasonably priced, and are trusted and well received by our customers. Our mini excavator manufacturer has a team with excellent technology and considerate service, which can provide users with one-stop service, including product consultation, selection, pre-sales training and after-sales service to ensure users' use is worry-free.
If you are looking for high quality, high performance and high efficiency mini excavation products, welcome to contact us, we will provide you with the best quality products and services.