LUGONG compact wheel loader supports customized attachments
LUGONG compact wheel loader is widely used in highway, railway, hydropower, construction, port, mine and other construction works of earth and stone construction machinery, which is mainly used for loading and unloading soil, gravel, lime, coal and other bulk materials,it can also make light shovel digging operation of ore, hard soil, etc. with the advantages of fast operating speed, high efficiency, good mobility and easy operation.
A variety of wheel loader models are available for you to choose, you can also send your needs, we will provide you with suitable loader styles, engines and other mechanical originals, and we can also provide you with customized options.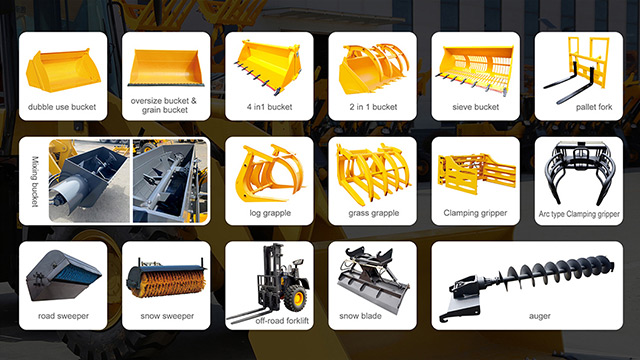 LUGONG compact wheel loader adopts the Hydraulic Quick Hitch. All kinds of accessories can be replaced. Such as: log grapple, grab bucket, pallet fork, road sweeper, ripper, 4 in 1 bucket, snow blade, angle blade, grass fork, hay fork, screening bucket, hydraulic hammer, stick rake,auger and so on. You can use the LUGONG compact wheel loader for various work, like farming, gardenning, landscaping, animal house, construction, bee keeping, minicipal work, etc.