Lugong LG938 Agricultural Wheel Loader is on sale
Wheel loader is widely used in the construction industry, but they also occupy a place in the agricultural sector. Especially in the countries with developed agriculture. Lugong LG938 wheel loader has become the best choice for farm owners with its 2ton rated load and 5m discharge height to provide the required power for farm operations.
Basic Parameters of Lugong LG938 Agricultural Wheel Loader
Main Technical Parameters
Bucket capacity
1 .6m³
Rated load
1500kg
Machine weight
5100kg
Overall dimension (mm)
6250*2020*2950
Wheel base
2530mm
Wheel track
1570mm
Bucket width
2200mm
Dumping height
3.8m 4.5m 5m
Max. dumping distance
5m
Rated power
76KW
Tyre
16/70-20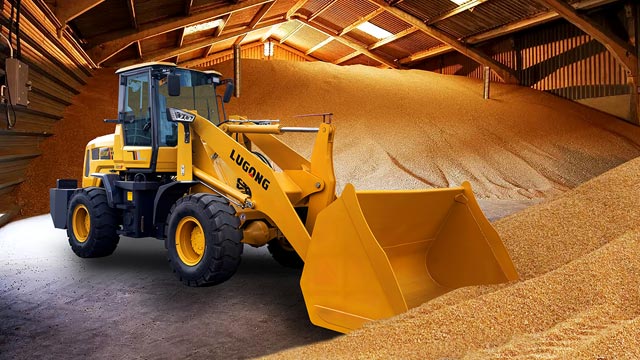 The Advantages of Lugong LG938 Agricultural Wheel Loader
1、Lugong agricultural loader with 1.6m³ bucket capacity. It can easily handle 1.5ton rated load, and become the best choice for your farm.
2、Five meters long unloading height, easy to manage any working environment.
3、LG938 product series is equipped with Sida 4102 turbo engine, low noise, low vibration, safe and energy-saving, with 76kw super power to provide enough power for you when working.
4、Sturdy body structure, unique welding technology, new-style movable arm, rocker arm and undercarriage process, making the body more stable, safety and passability.
5、LG938 also has an excellent cooling system, increasing its height and thickness, expanding its cooling area and improving cooling efficiency, a design advantage that has proven to be very practical in hot areas. l
6、Perfect body shape, wide cab provides a comfortable working environment and a broader view, providing the driver with an excellent operating experience.
7, Chaoyang, Gangtie famous tires, quality assurance, lasting and durable.
The Lugong wheel loader can realize different agricultural operations by changing attachments to meet your various needs. Lugong agricultural wheel loader has the characteristics of high efficiency and energy saving, more durable and reliable through whatever technology update, which is well received by customers. For more information about Lugong wheel loaders, please feel free to contact us.