Structural advantages of Lugong mini excavators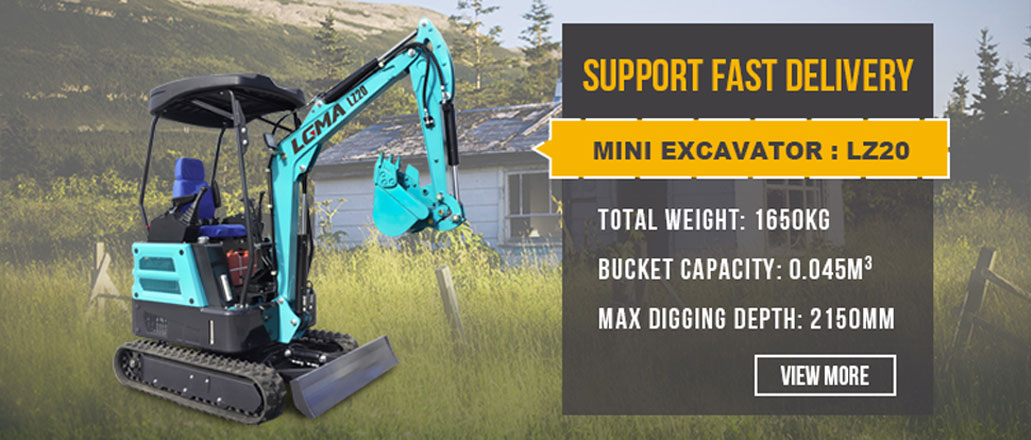 Lugong mini excavating machinery are born with the development in recent years, in order to solve the problem of manual labor and provide work efficiency, and the sales volume has gradually increased. China is the largest export market for small excavators. Lugong is the leader of small excavators in China. After more than 20 yuan of production and research and development, the technology has been continuously updated.
Structural advantages of Lugong mini excavators
The structure of whole vehicle
The whole vehicle is made of Q235B steel, which is of high quality, eliminating the cracking and twisting of poor quality steel. At the same time, the main force-bearing parts, such as the large and small arms, bucket, side swing, chassis and other parts are individually thickened and widened to improve the force strength and ensure stable performance.
Hydraulic Components
The cylinder adopts Changzhou Liquid Dragon cylinder, specializing in the production of cylinders for more than 20 years, the first-line domestic cylinder brand. The cylinder rod and cylinder barrel are thickened with chrome plating layer, thick and wear-resistant. Cylinder material quenching modulation, strong and durable, strong impact resistance, less affected by temperature. The cylinder sealing components all adopt imported NUK seals, -40° no internal leakage and no oil tampering.
The oil pipe adopts Kexin double tapered H-type triple explosion-proof high pressure oil pipe with seal ring inside, wear-resistant and corrosion-resistant, high pressure resistant without oil leakage.
The hydraulic gear pumps are all equipped with imported Japanese Shimadzu gear pumps as standard for smooth operation and low failure rate.
Operation
There are two types of operation, mechanical pilot and hydraulic pilot, with hydraulic pilot operation being gentle and effortless and efficient. 20 is truly a full hydraulic control, with all hydraulic control of the large and small booms, crushing and bulldozing, etc. After the machine is switched off and the handle and foot pedal are operated, the various parts do not release pressure and do not fall, making it safe and reliable. Other manufacturers can only do pilot control for large and small arms.
Slewing bearing
The tracks are made of thick material, with good adhesion between rubber and steel wire, high cooked rubber content and good finish. The modular design makes the entire track life more than twice that of ordinary brands. The modular design makes the whole track last more than twice as long as ordinary brands, and the optional steel tracks are durable in complex road conditions.
Engine
The engines come standard with the three-cylinder water-cooled domestic Laido 385 and Changchai 390 diesel engines, and can also be equipped with optional Kubota, Yanmar, Honda and other engines, and 10 standard single-cylinder air-cooled engines. A variety of petrol engines are also available for each model to meet the various needs of customers.
Electrical components
Model20 is equipped with an electronic display with timer, pressure gauge, voltmeter and many other functions, while many models are also equipped with engine preheating, which is convenient for cold starts in winter with only 5 seconds of preheating.
All oil level gauges are made of high precision and high quality steel casing, instead of the usual exposed plastic gauges.
Warranty
The first maintenance is required after 200 hours of use and every 80 hours thereafter, the pins and steel bushings are greased every 8 hours. The whole car is maintained once at long intervals and for a long time to avoid frequent maintenance affecting work efficiency.
All cartridges can be replaced quickly and conveniently by opening the rear hood, while the high quality cartridges are used to ensure filter accuracy.
One year warranty for the whole vehicle except for the pins, steel bushings, tracks, electrical parts and other wearable parts.
A variety of attachments such as buckets, trenchers and harrows can be customized to meet customer needs.
The body colour can be customized.
The side swing, undercarriage telescoping, extension arm and other functions can be customized.
The above are the advantages of Lugong mini excavators introduced to you. For more quotations about excavators, please consult Lugong machinery group.