What is the Bucket Capacity of a Wheel Loader
The bucket of a wheel loader is mainly used for moving materials and for light excavation work. The question of what is the bucket capacity of a wheel loader is a concern for many loader buyers. Any customer looking to purchase a loader needs to first understand the purpose of the loader, the materials to be moved, the distance to be moved, the intensity of the work and other related issues in order to choose the right size and model of wheel loader for their needs.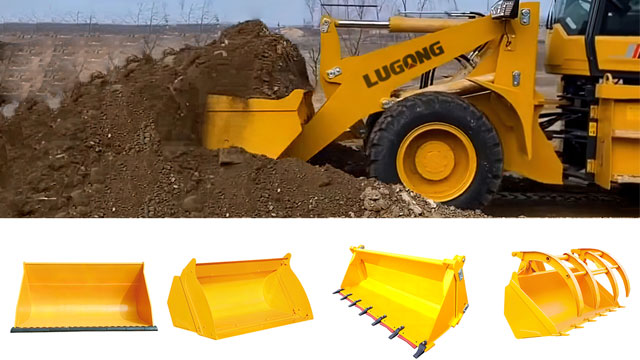 Wheel loader bucket capacity
Wheel loaders are divided by bucket capacity into small (below 3 cubic metres), medium (4 to 5 cubic metres), large (15 to 30 cubic metres) and extra large (over 30 cubic metres).
Types of LuGong loader buckets
Different types of loader buckets can be used for different construction applications. The common types of loader buckets are:
Engineering buckets
Engineering buckets are highly versatile and are known for their optimum functionality in terms of maximum filling and material retention. Therefore, if your project work handles multiple jobs and materials, this bucket is suitable for a variety of wheel loader applications and is the recommended choice for storage and reloading.
Grain buckets
If your project requires the loading of loose and light materials such as grain, wood chips, plastics and other light materials, then the grain bucket is designed specifically for you.
Multi-purpose loader buckets
Multi-purpose wheel loader buckets are essentially universal, as they are suitable for a wide range of applications. This includes bulldozing, material handling, backfilling, back hauling, light grading, grabbing, excavating, high dumping and many more uses.
Rock buckets
Rock buckets can handle materials such as rock and concrete debris in mining, quarries and large road applications. Rugged enough to withstand the high intensity wear and tear of heavy materials.
Lugong loader models and bucket capacities
| | | |
| --- | --- | --- |
| Model | Bucket capacity(m³) | Rated load (kg) |
| T920 | 0.6 | 1500 |
| T938 | 1 | 2000 |
| LG930 | 0.8 | 1800 |
| LG940 | 1.2 | 2200 |
| LG946 | 1.3 | 2500 |
| LA936 | 1.8 | 3000 |
All in all, always keep in mind that you should never push a wheel loader beyond its specified limits. You will only reduce its performance efficiency and increase wear and tear on heavy equipment. Loader bucket attachments can maximise efficiency and productivity.