Why choose LUGONG Wheel Loader?
Choose LUGONG Wheel Loader Introduction:
LUGONG wheel loader is a reliable and efficient heavy-duty machinery that offers outstanding performance in various industries. With its advanced technology, durability, and versatility, LUGONG wheel loader stands out as the preferred choice for many businesses.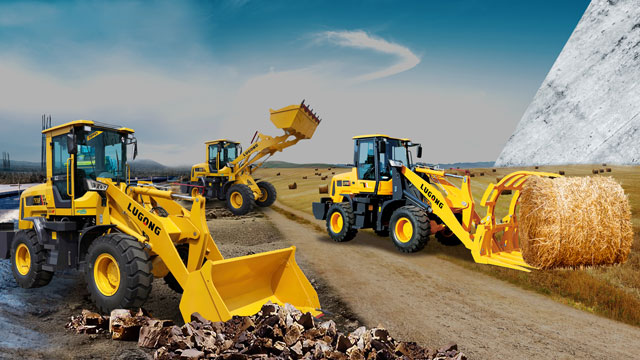 The Advantages of LUGONG Wheel Loader
-Luxurious enlarged cabin, luxurious seats, cabin with hydraulic forward tilt function, easy maintenance.
-The canopy can be removed for container transportation.
-Streamlined and enlarged fuel tank, the oil port can be tilted, and it is convenient to refuel.
-Hydraulic components adopt famous brand products, with long service life and stable performance; large water tank, high temperature resistance.
-Large tank radiator for very hot areas.
-Hydraulic steering system, easy to control.
-Hydraulic walking, equipped with the best torque converter in China, continuously variable transmission; service brakes are four-wheel hydraulic disc brakes with blasting pump.
-Optional Dongfeng Cummins engine.
LUGONG Wheel Loader Versatility and Adaptability
Whether you need to load, transport, or handle materials, LUGONG wheel loader can be customized to meet your specific requirements. LUGONG wheel loader adopts the hydraulic quick hitch. All kinds of accessories can be replaced. Such as: log grapple, grab bucket, pallet fork, road sweeper, ripper, 4 in 1 bucket, snow blade, angle blade, grass fork, hay fork, screening bucket, hydraulic hammer, stick rake,auger and so on.
LUGONG Wheel Loader Quality and Testing
We have experienced engineers with an average work experience of around 15 years. Each of our loader undergoes a very strict test procedure to ensure that they are shipped without any problem.
LUGONG Wheel Loader After-sales Service and Support
We are avaliable online 24 hours a day. We will provide you with product progress photos and video,If there are any product or technical problems,pls send me a video, we support technical service for machine whole life.
LUGONG Wheel Loader Warranty Period
Every product issued shall enjoy a one-year/2000 working hour warranty period, during which we will repair or replace the defective parts free of charge if material or process defects occur and spare parts are in normal working condition.
LUGONG Wheel Loader Installation Service
LUGONG can also help customers to coordinate with trained service personnel and provide you with detailed and extensive knowledge. Through our technical advice, your machine life can be significantly extended and sustained high capacity.
Choose LUGONG Wheel Loader Conclusion:
LUGONG wheel Loader is the ultimate choice for professionals in the construction and industrial sectors. Its superior performance, durability, advanced technology, and cost-effectiveness make it stand out in the market. With LUGONG wheel loader, businesses can achieve higher productivity, reduced operating costs, and improved efficiency. Choose LUGONG wheel loader for your heavy machinery needs and experience the difference it can make in your operations.